Stort for fansen

Norwegian Wood har etablert seg som festivalene for et publikum som i hovedsak er 40+ år, og kan i år skilte med artister som Lenny Kravitz, Sting og Bryan Ferry. Fredag kveld var derimot Tom Petty & The Heartbreakers som sto for den store publikumstilstrømningen, med en utsolgt konsert i Frognerbadet.

Og selv om det var et veldig blandet publikum som stimlet sammen foran scenen var nok den noe eldre garde som både gledet seg mest, og fikk størst utbytte av en konsert som greit oppsummerte Petty's karriere, både som soloartist og som bandmedlem i Traveling Wilburies.

Petty tok til scenen til stormende jubel med låta Listen To Her Heart fra albumet You're Gonna Get It, fortsatte rett over til You Wreck Me, og deretter kveldens første høydepunkt, I Won't Back Down fra Full Moon. Sistnevnte med stor allsangfaktor.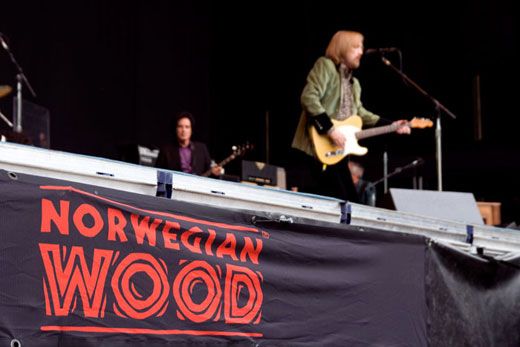 Allsangfaktor var det også på Traveling Wilburies-låta Handle With Care, Refugee samt Don't Come Around Here No More. Kveldens største generelle høydepunkt som forente hardbarkede fans og folk som bare "hadde tatt seg en tur" var nok likevel balladen og storhiten Free Falling som ble motatt med henrykt jubel over hele Frognerbadet. Det var da også låtene man kjenner fra radio som fikk aller best mottakelse av publikummet foran scenen. Selv om det var jubel og klapping fra deler av mengden for hver låt som ble påbegynt, var det en klar tendens til at strømmer av publikum forlot skråningen under låtene som kanskje ikke er fullt så allmen kjente. Dette reflekterer likevel ikke innsatsen eller kvaliteten på bandet som var i storform og gjorde en meget god jobb på scenen.

Runnin' Down A Dream fikk æren av å avslutte hovedsettet, mens bandet etter en noe lang pause kom tilbake og fremførte strålende Mary Jane's Last Dance og American Girl før de takket for seg etter en absolutt godkjent opptreden i den kalde juninatten.






Bildegalleri: NW2012 - Tom Petty (11 bilder)