- Live in the moment, not the future
We met Band of Horses at Piknik i Parken, for a chat about music, touring and finding songs in drawers.
Foto: Alyssa Nilsen
Charleston-based Band Of Horses have done increasingly well
in Norway, especially in terms of live shows. The band, who just released their fifth studio album
Why Are You Ok
, have no less than four visits to Norway planned for this summer, with another two headline shows added next spring.
A couple of hours prior to their last Oslo gig, Musikknyheter got the chance to have a chat with the band's jovial vocalist, Ben Bridwell. On a private spot behind the festival backstage we met Ben sipping red wine and being happy to be back in Norway again. 'This is maybe our best market' he smiles, and says they hit Norway early. Still with the same promoter, they've kept coming back since that first performance at the Øya festival in 2006, and he feels they've grown the band together. 'It takes showing up and playing for people and meeting people face to face, and somehow… the promo worked?' he laughs, 'doing radio stuff and playing the game the way it's meant to be played. Norway has one of our biggest fanbases and we're lucky to be able to keep coming back' he continues, reassuring us it never feels like a chore, 'Jesus no, everyone's beautiful and have a ton of money, it's like the best place to do well in'.
Aside from Australia
, Norway - Oslo in particular - is a place Ben claims to nearly have a better grasp on than his own hometown, 'The streets are a bit all over the place' he muses, 'is there a proper grid?'. Musikknyheter admits that apart from some isolated areas of town, not really. 'It's very similar to where we live' Ben smiles, 'Where we live is below sea level and there are a lot of marshes so you can't really do a grid system. You have to build your roads around nature, because you always run into water'.
At the time of the interview, the band's latest album,
Why Are You Ok
is 2 weeks old, and Ben feels that reception this time around has been really good. The band took a beating on the last album, and 'the critics ate it alive', Ben says, 'I threw my phone in the ocean!'
This time around though, things have been going a lot better
and slowly and steadily the crowds at gigs start perking up to the new songs as well. The album was produced by Granddaddy's Jason Lytle, and Ben's eyes are beaming as he tells us how he they met at a show during Band of Horses' second album tour, when Lytle surprisingly had come out of the house to see them live. 'He's not the most social fella' Ben laughs, 'but even took it upon himself to come introduce himself'. He notes that the whole band are big Granddaddy fans, and had a bit of a "hero-moment" when Lytle had introduced himself. They stayed in touch, and noticed they were very like-minded in terms of songwriting, always working on a song whether it's an idea for an album or just for the sheer exercise of it. Over the years they've become fast friends and have toured together, sharing buses and personal spaces. When the time came to make another album, Ben couldn't think of anyone he'd rather work with, despite Lytle's notable lack of experience producing other bands. 'He was a little taken aback by that', Ben smiles, 'produce a band's record? Ok..?'. Together they bunked up in a converted water tower called The Barrel House in California, listened to music and talked about the album in the making, and ended up recording the album in the very same place.
The result became an album slightly different
to Band Of Horses' earlier work, focusing strongly on homelife, family and domestic issues. Ben says having a larger family [than before] and not wanting to have to deal with the conversation of having to leave to write, subconsciously had its affect on the songwriting process as well as the album, 'I was having some trouble at one point trying to figure out what themes I was interested to explore within my own psyche, and I didn't mean for [the album] to be like "Daddy's coming out party", but in a way those themes seeped into the bones of the album, and other things, like conversations I'd had the night before or overheard on the street, became ingredients in the soup'.
And quite literally so. The intro to single
Casual Party
is a rant one of Ben's friends recorded of a collegue who drunkely failed to grasp the concept of Uber, 'You hit that certain level of too much to drink where you see the night decending into chaos… He is one of those confrontational partyers and he just didn't understand what Uber was. He thought he had to tip this driver and gave him fifty bucks for the ride, and the driver's like "ok bye!"', Ben chuckles, 'I had to chop it up and try and find any words without "Fuck" in them, because it was pretty much every other word, haha! He's just getting torn apart!'
'It needs to be made into a short film or something because it's so funny!'
Several aspects of this album are equally close to home
, such as the title
Why Are You Ok
, which has spurred some very interesting theories online where reviewers and fans have tried deciphering its meaning. Truth is, it was all done by one of Ben's daughters who was playing around on his phone and had, without him realising it, opened an email. Whatever it was she actually typed, it got autocorrected into
Why Are You Ok
, 'There was no punctuation' Ben laughs, 'it was like some exsistential mystery that at least makes us look more sophisticated or deep'.
'The reason I knew it was the perfect album title was that most of the albums have had inside joke attachments to them or something that made it hard to explain, so to make it harder for myself in interviews, I knew this was the way to go'.
Musikknyheter's journailst has to admit that
one of the songs on the album, she's developed an almost unhealthy obsession with, the song
In A Drawer
. Ben's face lights up as he hears this, and nods eagerly, 'Oh god, it's a bit of an ear-worm, right? Shit, I had a very unhealthy obsession with that one!'.
The song features Dinosaur Jr.'s J. Mascis, and is according to Ben 8 years in the making, 'It's way too old. It should have left the house a long time ago'. He explains that the song just wouldn't co-operate, he could never get it right. He gets stuck in his song writing ways, and finds it very hard to be versatile, and just couldn't seem to adapt the song to get it over the hump. Still he refused to give up on the song, or as he puts it: 'on the damn thing', but it eventually became a song he's really proud of. 'It's a bit bananas too. All the trusted people I worked with, even the band guys, none of them could really understand what it was I was trying to do. All these voices are clashing and it's almost at a lack of a chorus. There are so many things talking on top of each other, but the cacophony of all those voices going together… I'm so pleased, it's like I finally snuck it past the goalie'.
Getting it past the management people
wasn't easy either as it turns out, the general response was that he "almost had it", but Ben still refused to give up on it, even holding on the mixing of the album until he could get it right. But now, in its final version, it's even rumoured to be a candidate for the second single off the album. 'It's a song you have to listen to again, because there's so much distraction, you feel so confused at the end, you have to listen just one more time.
And for all the online discussions about what it really was he found in the drawer: That came from Ben searching for inspiration for a new lyric, and looking around in a drawer to find an old momento or something to trigger a memory. 'I'll just sing "Found it in a drawer"! Like, I found a song in there basically'.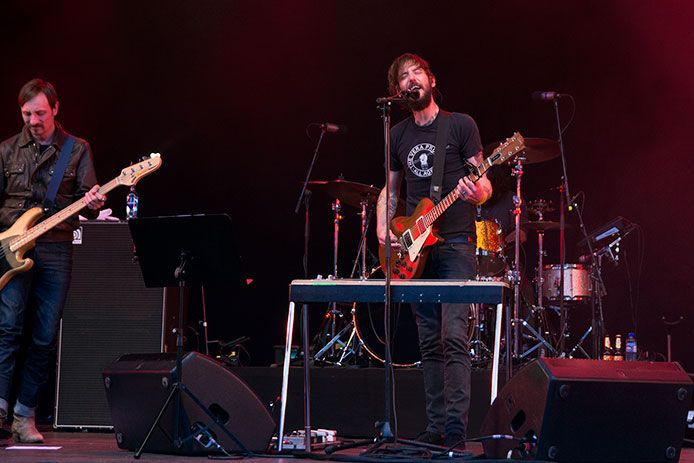 Foto: Alyssa Nilsen
Despite growing popularity
, having musical legends popping up on their albums, and touring the far corners of the world, their musical aspirations haven't quite reached Pyramid Stage at Glastonbury territory yet. 'There's no way we could do that. We'd probably shoot ourselves in the foot somehow. And they'd never ask us', Ben grins, 'maybe we'll get the legacy slot 30 years from now, but I don't think that's gonna happen either, sorry'.
'We've always been one of those bands that… We've always been dealt repeated blows of expectations being shattered. Even coming to Øya the first time was like "Yay, we get to go to Europe!" but then when we got there people sang our lyrics back to us, and all we could think was "this is absurd"'. He explains that they come from very humble means in the music industry, and always thought that if you got to tour a little bit around the pacific north west of America, then you were doing pretty good. They've always been happily grasping onto whatever rung of the ladder they're on, and if ever they're aspiring to something more, it's doing a better job. 'Live in the moment, not the next one. Doing your promo correctly, doing your show correctly. Being in that moment enough to not let it pass you by.'
'Whatever happens happens, and as long as you're doing a decent job and enjoy what you're doing, then you're in the right place and you don't need anything else'.
Read the interview in Norwegian HERE!
Sam Ryder says single ‹Somebody» is his offering of joy
A "Future Nostalgia" disco party >>
"You can make the mistake of relying on the expertise around you when it's important just to trust your gut - because nobody knows you better than yourself." >>
- We're not gonna pop in and then go away. We're gonna stay! >>
"If there's so little of yourself in a song that you can't remember when you wrote it and where, something has gone wrong" >>
Takes successful chances on his second album >>
We had a chat with the boys in London ahead of the release of their new album. Read - and listen to - the result here! >>
The band will play the album in full and screen the accompanying film at their Oslo gig, We spoke to Brett Anderson and Mat Osman about the concept behind it all. >>
Announced on Facebook that they're "pulling the breaks on the Team Me train" >>