We chatted to The Vaccines in Oslo
And it turned into an interesting conversation about today's music industry and surviving as a musician.
British band The Vaccines first made
a name for themselves releasing their 2011 album
What Did You Expect From The Vaccines
and singles such as
Wetsuit
,
If You Wanna
and
All In White
. The album became one of that summer's big soundtracks, with videos, artwork and a sound which all felt like romantic faded instagram pictures - snapshots of the perfect hipster summer.
Since then the boys have grown up, and released two very different sounding albums. One dark and desperate second album,
Come Of Age
, and the latest and more balanced
English Graffiti
which was released this past spring. The band ended their European tour at John Dee in Oslo, and we had a little chat with guitarist Freddie Cowan and drummer Pete Robertson a couple of hours before the gig.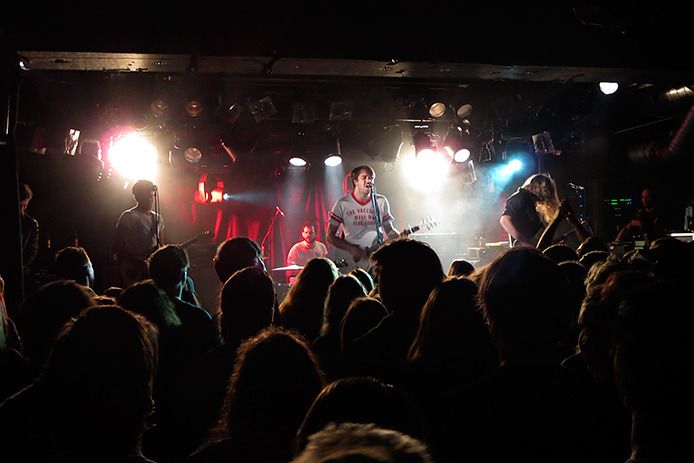 The Vaccines live at John Dee in Oslo
Despite being tired and worn out
after a long tour, and very much looking forward to heading home for a week's vacation the next day, it was a couple of cheerful guys we met at John Dee. This is not their first time visiting Norway, and the boys had fond memories of earlier visits - especially their gig at the Hove festival in 2011 - which according to Cowan was AMAZING:
«It was a fantastic experience for us. We went fishing, barbecue, backstage on the beach. Shame it doesn't exist anymore.»
One thing the guys are very used to
is big festivals. They played in front of 70.000 people supporting The Rolling Stones in Hyde Park, this summer they played Glastonbury, and have previously played for thousands of people at festivals like Reading & Leeds, in South America, and at big arena concerts in Europe and England. It would be easy to think playing pubs like John Dee would be somewhat disappointing, but a laughing Cowan assures us that's certainly not the case:
«I just don't know in which end we belong.»
Robertson agrees, and says it's not at all negative, just different. They like the variation, and feels that playing for massive crowds earlier makes them better equipped to be able to give good performances in other venues, like in small bars. He also feels that the bars are more intimate, which allows them to enjoy themselves more on stage:
«It sounds different and it feels different and I just like doing different stuff to keep it interesting. And we've played smaller places than this as well.»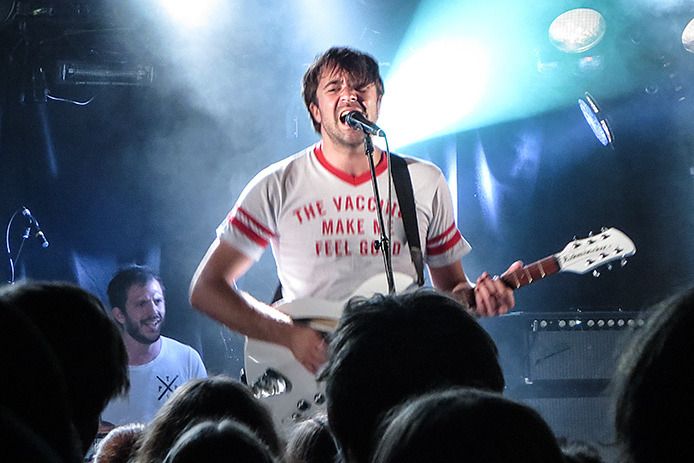 Justin Hayward-Young live at John Dee in Oslo
With big variations in the size of gig
, isn't it difficult to make the same show work in different venues? Robertson explains that it might have been, had they been Taylor Swift and had massive arena productions to down scale:
«But since we're a guitar band, a rock'n roll band, this is our home. This is where we started out.» Smiling he adds that: «We've all played in different rock bands for 10 years, who'd probably be thrilled to be able to play a venue this size!»
Still, the guys have to admit that playing small crowds is a lot scarier than playing big arena shows. There, you're just a tiny piece of a big machine, and the responsibilities are shared between a large amount of people. But when you're on your own at a pub gig, like at John Dee, or doing charity things, it's a whole lot scarier:
«It's like 'Well are you any good or wha'? It's fucking scary to stand there playing an acoustic guitar.. Less to hide behind.»
The Vaccines' latest album "English Graffiti"
went straight in at number 2 on the British charts, but accordig to the guys, measuring success from record sales, is completely impossible in todays market. Cowan says the English record sales have gone down 40% this past year, and the despite streaming now being included in the charts, it's impossible to compare that to record sales:
«An album needs a thousand streams to qualify for one sale. Think about it! One millions streams qualifies for a thousand albums!»
Because of this, working artists need to tour a lot more often and a lot longer at a time, just to be able to survive, which - according to Robertson - has it's pros and cons. On one hand, you get closer contact with the fans and the people who like your band, on the other hand you get less time to be creative. Which is essentially what's needed to be able to make more albums.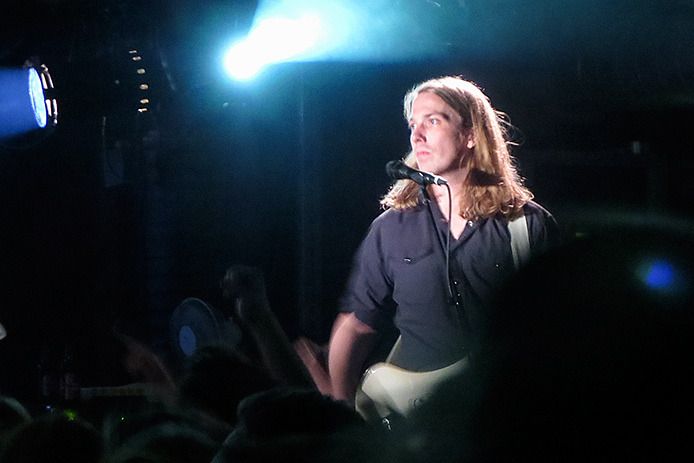 Árni Árnason live at John Dee in Oslo
Cowan feels that the whole thing makes the market
completely different from the one we knew 15-20 years ago. The way things are today, the first albums of new artists are fantastic because they often record them while having normal jobs with plenty of time to write good songs and record them on the side.
When, later, they have to spend the next couple of years touring expand the life of the album, they have no time to make a good follow up record. He feels this is one of the reasons behind the lack of new headline acts the festivals are experiencing these days:
«All the bands are so busy touring that at the end they don't know what they are or who they are or what they're doing. You lose all this time when you're away. The industry isn't giving the next generation of headliners the chance to make those seminal records. Because the seminal records are how headliners happen. You've got the select few that manage, like Florence + the Machine, but you don't really get the albums that create history anymore. Because how could you? It's like you tour forever and then they say «go and have a week off and put out your next album».»
He explains that his dream for the next album would be that they wouldn't have to tour so much - just for the sake of touring - so that they can focus 100% on songwriting. Maybe do a week of touring Spain, then have some days off to get your head together, and then go into the studio for a couple of weeks to record demos. Simply have each month divided into different parts allowing you to work, but also to be a proper person with an actual life and time to get new thoughts and ideas, which you then in turn have time to develop:
«One of our missions for the next albums is finding the essence of this band. Something to be remembered for, a strong identity. These things rarely happen straight away - it happens - but usually it happens on later albums. Like White Stripes, they obviously had the sound, but "Elephant" was their fourth album and their break through. "Joshua Tree" was U2's fifth album and that's when they arrived.»
But one thing the boys have had a bit more control over
and been allowed to play around with on the latest album is the music videos. Their earlier videos have usually consisted of instagram pictures, they've had performances, and they've had visually artistic videos. This time however, they've gone in a whole new direction, and have made their videos film-like little histories - often inspired by cult-classics from different decades and with a solid dose of humour.
Cowan feels that videos where the band is standing in front of a light screen singing and playing is somewhat passé, something that belongs to the MTV generation. Before internet and youtube, you needed a visual representation of the band - what they sound like and what they look like - but now there are millions of live videos ready available at any give time. So instead, they've chosen to focus on what else could be done:
«"Would this be fun? or this?" Because videos where you're just standing there playing guitar is a little bit boring.»
Or you can do what you did in your last video, "Give Me A Sign", and have someone else stand there playing guitar in your place. It's quite Spinal Tap'y that one.. is it The Vaccines 20 years from now?»
«Haha, oh God I hope not!» Cowan chuckles; «If that happens, please shoot me!»
(Photo: Alyssa Nilsen)
Sam Ryder says single ‹Somebody» is his offering of joy
A "Future Nostalgia" disco party >>
"You can make the mistake of relying on the expertise around you when it's important just to trust your gut - because nobody knows you better than yourself." >>
- We're not gonna pop in and then go away. We're gonna stay! >>
"If there's so little of yourself in a song that you can't remember when you wrote it and where, something has gone wrong" >>
We met Band of Horses at Piknik i Parken, for a chat about music, touring and finding songs in drawers. >>
Takes successful chances on his second album >>
We had a chat with the boys in London ahead of the release of their new album. Read - and listen to - the result here! >>
The band will play the album in full and screen the accompanying film at their Oslo gig, We spoke to Brett Anderson and Mat Osman about the concept behind it all. >>